The Art of Digital Rights Campaign to protect women and children from cybercrime.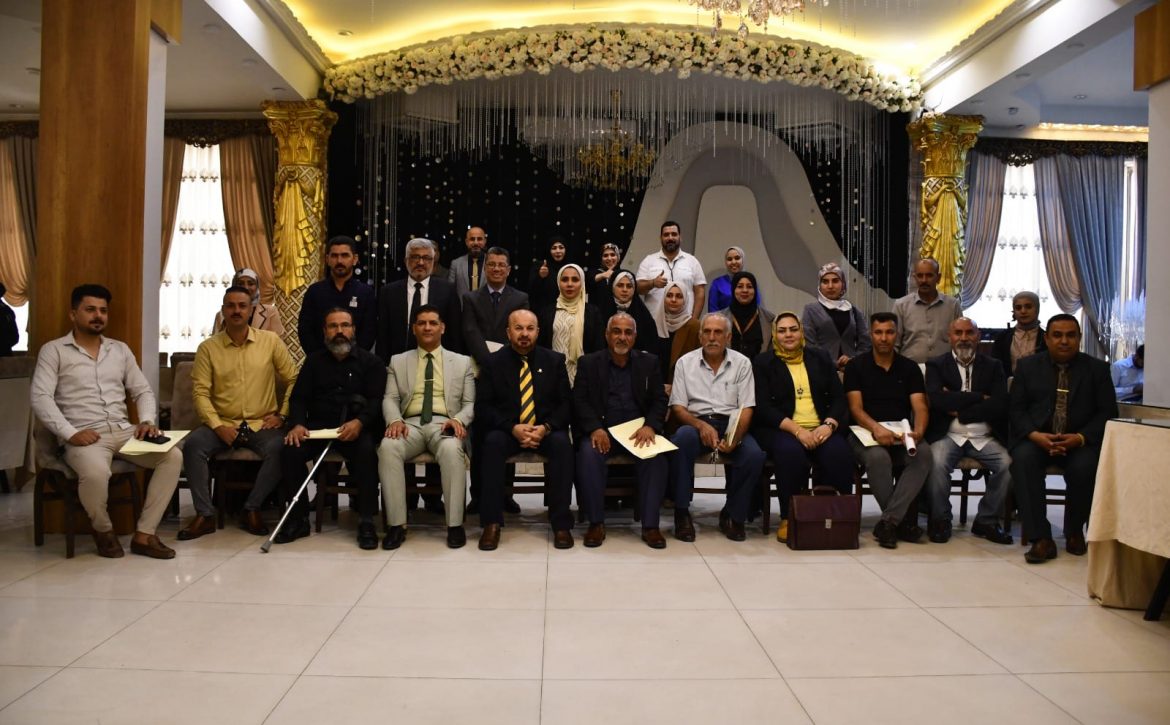 برعاية منظمة ميرسي كور وبحضور مميز من الصحفيين والجهات الداعمة في محافظة ذي قار أقامت مؤسسة أورفن للثقافة والفنون ورشة عملها الأولى.
حملة فن الحقوق الرقمية للنساء والأطفال والتي تدور حول الابتزاز الإلكتروني وأسبابه وسبل معالجته.
حضر الورشة الاستاذ حيدر السعدي مستشار محافظ ذي قار والاستاذ عبد الحسن داود النصرالله نقيب الصحفيين فرع ذي قار والاستاذ داخل عبد الحسين المشرفاوي مدير مكتب مفوضية حقوق محافظة ذي قار، وممثلي الأمن الوطني والمخابرات والشرطة المجتمعية ومكتب مكافحة الجرائم الإلكترونية و مدير مكتب حقوق الإنسان في مديرية تربية ذي قار الاستاذ حيدر خورشيد وممثلي عن منظمات المجتمع المدني في ذي قار.
ونظراً لأهمية موضوع الابتزاز الإلكتروني ، فقد كانت الورشة تفاعلية وشيقة في كافة مراحلها. بدأت السيدة بثينة الركابي الورشة بكلمة مختصرة تناولت فيها أهمية موضوع الورشة وكيف اختارته مؤسسة أورفن. كما تحدثت عن منظمة ميرسي كوربس الراعية للبرنامج وقدمت نبذة عن مؤسسة أورفن للثقافة والفنون.
تميزت الورشة أيضا بحضور نسوي لافت ، بدأت الوشة في التاسعة صباحا وانتهت الساعة الثانية ظهرا تخللتها فترة استراحة ، كانت البداية بجلوس المشتركين على شكل الحرف يو حيث القيت المحاضرة الرئيسية بعدها كانت فترة استراحة ثم أستأنفت الورشة بتقسيم الحضور إلى عدة مجموعات ، تناولت كل مجموعة مشكلة معينة وشرحت أسبابها ووضعت الحلول المناسبة لها ، ثم عاد الحضور الى الجلوس على شكل الحرف يو لمناقشة المشاكل المقترحة وحلولها التي شخصت من قبل المجموعات .
جدير بالذكر أنه حتى في فترة الاستراحة القصيرة تناول المشاركون موضوع الورشة وذلك لان الجميع يدرك أهمية موضوع الورشة ( الابتزاز الالكتروني ) وضرورة تشخيص أسبابة و وضع الحلول المناسبة للحد منه .
وأخيراً و ليس آخرا ، شكراً لكل من حضر ومن شارك و نشر!
Under the sponsorship of Mercy Corps and in the distinguished presence of journalists and supporting bodies in Dhi Qar Governorate, the Orfen Foundation for Culture and Arts held its first workshop.
The Art of Digital Rights campaign for women and children, which revolves around electronic blackmail, its causes, and ways to address it.
The workshop was attended by Mr. Haider Al-Saadi, Advisor to the Governor of Dhi Qar, Mr. Abdul Hassan Daoud Al-Nasrallah, Head of Journalists, Dhi Qar Branch, Mr. Dakhel Abdul Hussein Al-Musharawi, Director of the Office of the Dhi Qar Governorate Rights Commission, and representatives of National Security, Intelligence, Community Police, the Office of Combating Cybercrimes, and the Director of the Human Rights Office in the Directorate. Dhi Qar Education, Mr. Haider Khorshid, and representatives of civil society organizations in Dhi Qar.
Given the importance of the topic of electronic blackmail, the workshop was interactive and interesting in all its stages. Mrs. Buthaina Al-Rikabi began the workshop with a brief speech in which she addressed the importance of the workshop topic and how the Orfen Foundation chose it. She also spoke about Mercy Corps, which sponsors the program, and presented an overview of the UR-FN Foundation for Culture and Arts.
The workshop was also distinguished by a remarkable female presence. The workshop began at nine in the morning and ended at two in the afternoon, including a break. It began with the participants sitting in the shape of the letter U, where the main lecture was given. After that, there was a break. Then the workshop resumed by dividing the attendees into several groups, each group dealing with a specific problem. The reasons were explained and appropriate solutions were developed. Then the audience returned to sitting in the shape of the letter U to discuss the proposed problems and their solutions that were identified by the groups.
It is worth noting that even during the short break, the participants discussed the workshop's topic, because everyone realizes the importance of the workshop's topic (electronic blackmail) and the necessity of diagnosing its causes and developing appropriate solutions to reduce it.
Last but not least, thank you to everyone who attended and who shared and posted!